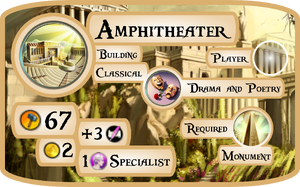 Game Info
[
]
Classical Era culture building. Requires Monument or Stele.
Gods & Kings
[
]
Brave New World
[
]
Strategy
[
]
In Gods & Kings, the Amphitheater replaces the Temple as the second-tier culture building. It is the first building that provides an Artist Specialist slot, which makes it very important for empires pursuing a cultural victory.
In Brave New World it provides a Great Work of Writing slot instead of a Specialist slot.
Civilopedia entry
[
]
An amphitheater is an outdoor arena designed for open-air theatrical performances, as well as sporting events and concerts. The ancient Romans in particular are known for the hundreds of amphitheatres they constructed, in which gladiatorial combat, exhibitions, and public executions were conducted.
Trivia
[
]
Ancient Greek theatres were built to a semicircular plan, with tiered seating above a performance area. Ancient Roman amphitheatres were oval or circular in plan, with seating tiers that surrounded the central performance area, like a modern open-air stadium.
Modern usage for "amphitheater" does not always respect the ancient usage, and so the word can embrace theatre-style stages with the audience only on one side, theatres in the round, and stadiums.
Natural formations shaped like man-made theatres or amphitheatres are sometimes known as natural amphitheatres.