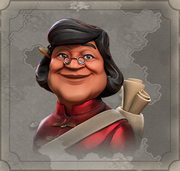 Amusement is a Level 2 title for Liang, a Governor in Civilization VI: Rise and Fall, requiring Aquaculture. The title was removed in Civilization VI: Gathering Storm.
Effects
[
]
+30%

Production towards Entertainment Complex and Water Park buildings in the city.
Civilopedia entry
[
]
Public forms of recreation and enjoyment are a common way for a leader to gain popularity with their populace. The ability to organize and manage successful public amusements have been highly prized since at least the days of Rome.