Dead Cells Final DLC - The Loop
Play Sound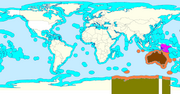 In Call to Power II the Australians are one of the 41 default civilizations you can choose from when beginning a new game either a scenario or a standard game.
Story
[
]
Australian civilization began as part of the former British empire. The British empire evolved from its predecessor civilization, the English. Up until 1931 AD, the British controlled these people directly but after this year they no longer did so. In the year 1931 a treaty was made between the different powers inside of the British Empire. This treaty was called the Westminster Statute. From this point on it was set in motion that the British empire become moribund and be broken up. In the year 1949 the treaty was ratified. After this happened the Australian civilization was born. But depending on your political ambitions you could rename one of the civilizations in the Civ_str text file to Commonwealth and try to continue ruling it all still has kind of a supranational organization like the European Union (EU). Those with more regional ambitions would rather create a supra-national union called Oceanic Union instead. But this page will focus on the Australian civilization instead of the larger supra-national states.
Locations of Cities (200x400 size earth)
[
]
Australia has 57 strategic city placements. Some of these locations are colonies or small villages but state capitals are local administrative centers and will have court houses. But to be fair this 57 cities includes only locations in Australia proper and Antarctica. All of the current day island colonies have not been added yet. And the number of cites under Australian control was substantially higher in the 26-year period from 1949 to 1975 before Papua New Guinea became an independent country.
#
Name
Coordinates
Comment
1
Albany
027,277
2
Perth
030,270
Has Court house
3
Esperance
031,274
4
Kalgoorlie
034,268
5
Eucla
036,269
6
Geraldton
034,260
7
Cosmo Newberry
039,258
8
Meekatharra
038,256
9
Carnarvon
037,252
10
Newman
042,249
11
Onslow
041,246
12
Port Hedland
044,244
13
Derby
050,237
14
Billiluna
049,242
15
Kiwirrkirra
046,249
16
Wyndham
054,233
17
Lajamanu
053,238
18
Darwin
059,227
has court house
19
Nhulunbuy
062,227
20
Katherine
057,232
21
Borroloola
058,235
22
Tennant Creek
053,242
23
Alice Springs
048,251
Formerly had a court house when it was seat of the former Central Australia state
24
Chandler
044,260
25
Yalata
039,269
26
Port Lincoln
038,273
27
Adelaide
038,277
has Court house
28
Marree
043,265
29
Broken Hill
043,270
30
Mount Gambier
036,283
31
Melbourne
039,283
Has a Court house
32
Hobart
035,293
Has a Court house
33
Bega
042,282
34
Canberra
043,278
National Capital and a court house
35
Griffith
044,273
36
Sydney
048,272
Has a court house
37
Clifton hills
047,259
38
Tibooburra
047,263
39
Bourke
048,265
40
Sandringham
051,252
41
Mount Isa
055,245
42
Normanton
059,238
43
Bamaga
067,224
44
Musgrave
063,232
45
Cairns
062,237
46
Townsville
060,242
47
Long reach
055,250
48
Mackay
059,246
49
Rockhampton
058,250
50
Charlieville
052,257
51
Maryborough
057,254
52
Brisbane
054,261
has a court house
53
Moree
051,263
54
Coffs Harbour
051,266
55
Mawson
160,350
Antarctica
56
Davis
166,353
Antarctica
57
Casey
188,347
Antarctica