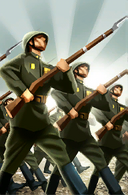 Back to Social policies



Go to the Social Strategy article

Autocracy is a social policy tree in Civilization V. It is available at the start of the Industrial Era and cannot be active at the same time as Order or Freedom in vanilla and Gods & Kings.
In Brave New World it got converted from a social policy tree to an Ideology.
Game Info
[
]
Vanilla and Gods & Kings
[
]
Autocracy is for militaristic civilizations, dreaming of world conquest.
Adopting Autocracy reduces Unit

Gold Maintenance costs by 33%, allowing an empire to field a larger military. Receive 10

Culture as plunder for each point of

Culture produced in captured city (

only).
Adopting all Policies in the Autocracy tree will grant:
a 20% attack bonus to all Military Units for 30 turns (Vanilla)
a 25% attack bonus to all Military Units for 50 turns. May purchase Great Generals and Great Admirals with Faith ()
Policy
Effect
Requirement
 Populism
Wounded military units deal +25% damage than normal.
Adopting Autocracy
 Militarism
Gold cost of purchasing units reduced by 33%.
Adopting Autocracy
 Police State
+3 Happiness (local city Happiness in ) from every Courthouse. Build Courthouses in half the usual time.
The effectiveness of enemy spies is reduced by 25% and your counterspies have a 25% increased chance of catching enemy spies ( only).
Militarism
 Fascism
Quantity of Strategic Resources produced by the empire increased by 100%.
All Great Generals receive +2 Movement ( only).
Populism & Militarism
 Total War
+15% (+25% in ) Production when building Military Units and new Military Units start with +15 Experience.
Police State & Fascism
Brave New World
[
]
Main article: Ideology_(Civ5)#Autocracy
Strategy
[
]
Civilopedia entry
[
]
In an autocracy, one person holds ultimate power. This person is not answerable to anyone - parliament, the nobility, or the people at large. An autocrat may be a dictator who seized power at the head of the military, or he may be a monarch who was born into the position. Or, indeed, the people may have voted him into power. But however he got there, the autocrat is now in charge and cannot be countermanded.
Related achievements
Diplomacy by Other Means

Fully Explore the Autocracy Policy Track.