Fire Emblem Warriors: Three Hopes - The Loop
Play Sound

Back to the list of units
Game info
[
]
Melee cavalry unit. Unlocked at Bionics.
The Autosled is a

Purity - Supremacy hybrid unit consisting of a large drone crewed by a navigator and a gunner. It fulfills the role of shocktrooper, being able to move quickly throughout the battlefield and dish out heavy damage early on in the game. Due to its low Affinity requirements, it is usually the first unit the player can receive that is levitating and is also quite cheap in terms of resources and production. As it has many abilities that other units have not acquired yet, it can be used to effectively rush opposing sponsors in the early game as their strength is very high for that time. The Autosled, being able to levitate, can also be used with aquatic sponsors and excels in naval combat despite the penalties inflicted upon their high strength.
Unit Upgrades
[
]
Tier 1
[
]
Autosleds are available fairly early in the game and are also the first hovering and amphibious unit in the game. This makes them incredibly versatile. They also have a very high

Strength at this time and a respectable movement speed. Their only drawbacks are their costs. Early in the game a player is lucky to have one Affinity resource, let alone two. Sponsors will have to trade with other sponsors or expand their territory aggressively in order to secure the 

Firaxite and 

Floatstone necessary for production. They are best used in the ocean where most units have Strengths of less than 20, but also excel against infantry.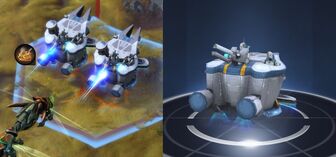 Subject
Tier 1 (Autosled)
Tech Prerequisites
Bionics
Affinity Prerequisites
4  Purity

4  Supremacy

Resource Cost
1 Firaxite, 1 Floatstone
Production Cost
325 Production
Combat Strength
40 Strength
Movement
3, Hover
Tier 2
[
]
Tier 2 Autosleds have less of the magic that Tier 1 Autosleds have as many units during this time can Hover. They still have higher Strength than typical Tier 3 and Tier 4 Combat Rovers and can be more mobile. They excel at this time due to their perks, which allow them to excel at destroying cavalry-based armies.
Subject
Tier 2 (True Autosled)
Tier 2 (Master Autosled)
Tier 2 (Prime Autosled)
Tech Prerequisites
Bionics
Bionics
Bionics
Affinity Prerequisites
12  Purity

5  Supremacy

9  Purity

9  Supremacy

5  Purity

12  Supremacy

Resource Cost
1 Firaxite, 1 Floatstone
1 Firaxite, 1 Floatstone
1 Firaxite, 1 Floatstone
Production Cost
455 Production
455 Production
455 Production
Combat Strength
76 Strength
76 Strength
76 Strength
Movement
3, Hover
3, Hover
3, Hover
Perk Choice A
+20% Strength when attacking unfortified units
+20% Strength when attacking unfortified units
+20% Strength when attacking unfortified units
Perk Choice B
+1 Movement
+30% Strength when flanking
+30% Strength in friendly orbital coverage
Civilopedia entry
As a Supremacy-Purity hybrid unit, the Autosled is a unit that uses robotics to assist and protect human soldiers. The unit is actually composed of 3 members: the gunner, the pilot, and the Autosled itself. This unit is representative of the cooperation between humans and robots that the Supremacy-Purity hybrid emphasizes.
The Autosled itself is actually an indepdenent, autonomous combat robot. It is lightweight but still very durable thanks to advances in defensive technologies. Because it can hover, it is highly mobile and agile. Although the default setting for the Autosled is a form of 'autopilot' controlled by the human crew, it carries enough sophisticated sensors and computers for it to be able to take over for a crewman if he is killed or even operate completely by itself if necessary.
The Autosled crewmen are experienced soldiers, either veteran marines or rangers promoted to Autosled command. Aided by the Autosled itself, the gunner is given target recommendations and the pilot can drop the controls to fire his weapon while the Autosled pilots itself.