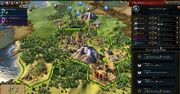 Your

Capital is the city that contains your Palace, the center of your empire and your power as ruler. As the capital is your civilization's first and greatest city, it is also the most glorious and productive city in your empire.
The first city you settle will automatically become your

Capital at the beginning of the game, and is also considered your "original capital" for the purposes of a Domination Victory - to win in this manner, you must control both your original capital and all other players' original capitals. If your capital is captured, the Palace (as well as the

Capital status) will move to your next largest city.
In addition to the bonuses it receives from the Palace, the

Capital is the only city that benefits when you have 1 or 2

Envoys at a city-state. There are also some Policy Cards, such as God King, Colonial Offices, and Colonial Taxes, that affect either the

Capital or cities located on a continent different from the

Capital's continent.
Civilization VI [edit]
Rise and Fall • Gathering Storm
Lists
Agendas • Beliefs • Buildings • City-States • Civics • Civilizations • Districts • Improvements • Leaders • Pantheons • Policy Cards • Promotions • Resources • Scenarios • Technologies • Terrain • Units (Unique Units) • Wonders (Natural)
Eras
Ancient • Classical • Medieval • Renaissance • Industrial • Modern • Atomic • Information • Future

Concepts
Ages

• Amenities • Barbarians • City (Capital • Governors

• Housing • Loyalty

• Population) • Combat • Disasters

• Diplomacy (Emergencies

• Gossip • Grievances

• Warmongering • World Congress

) • Eureka Moment • Government • Great People • Great Works • Map (Appeal • Borders • Continent • Tile) • Movement • Religion • Timelines

• Trade Routes • Victory
Statistics


Culture • Diplomatic Favor

•

Faith •

Food •

Gold •

Production •

Science •

Tourism
Miscellaneous
DLC • Modding • Soundtrack • Starting a new game • Steam Achievements • Steam trading cards • Updates

Added in the Rise and Fall expansion pack.


Added in the Gathering Storm expansion pack.