Game Info
[
]
Mounted unit of the Industrial Era. Upgrades from the Knight. Requires

Horses.
Common abilities:

Can Move After Attacking

Penalty Attacking Cities (33)

No Defensive Terrain Bonuses
Strategy
[
]
The Cavalry is the strongest mounted (i.e. pre-armored) unit in the game. Armed with a short carbine and depending much more on mobility than their predecessors, they are devastating against melee, ranged, and siege units.
Use them to destroy Musketmen and then break through the enemy's lines with their ability to move after attacking. Cavalry are quite vulnerable to the mounted-unit-killing Lancer, thanks to their Formation promotion as well as a penalty against other mounted units. When considering which of these two mounted units to build, remember that Cavalry upgrade into armored units (Tanks in vanilla and Landships in the expansions), and will thereafter require

Oil to remain at full

Strength.
Civilopedia entry
[
]
By the end of the 19th century, European and American cavalrymen were armed with repeating rifles, small, reliable weapons holding 5-15 rounds which were accurate up to perhaps 500 yards, as well as pistols and swords. Because their equipment was so much lighter than that encumbering earlier lancer and knights, they were much faster and could ride a good deal farther than their predecessors. While the cavalry charge of old might still occur under very favorable conditions, the infantry's increased accuracy and rate of fire made that maneuver extremely dangerous. When facing infantry units the cavalry usually dismounted to fight, with one soldier holding four horses a distance to the rear while his three comrades traded shots with the enemy.
Unofficial custom card
[
]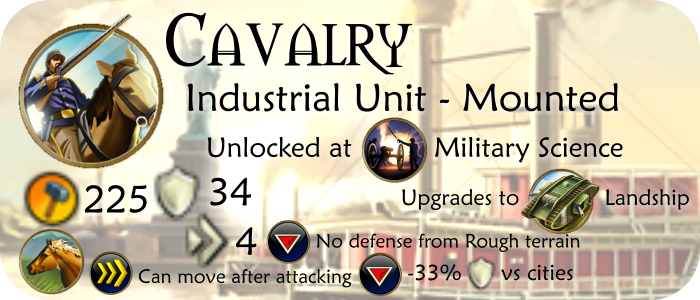 Civilization V Units [edit]
Civilian
Archaeologist • Caravan • Cargo Ship • Settler • Work Boat • Worker
Land military
Anti-Aircraft Gun • Anti-Tank Gun • Archer (Atlatlist • Bowman • Slinger) • Artillery • Bazooka • Cannon • Catapult (Ballista • Siege Tower ) • Cavalry (Berber Cavalry • Comanche Riders • Cossack • Hussar ) • Chariot Archer (Hand-Axe • Horse Archer • War Chariot • War Elephant) • Composite Bowman • Crossbowman (Chu-Ko-Nu • Longbowman) • Gatling Gun • Giant Death Robot • Great War Infantry (Foreign Legion) • Helicopter Gunship • Horseman (African Forest Elephant • Cataphract • Companion Cavalry) • Infantry (Pracinha) • Knight (Camel Archer • Conquistador • Keshik • Mandekalu Cavalry • Naresuan's Elephant) • Lancer (Hakkapeliitta • Sipahi • Winged Hussar ) • Landship • Longswordsman (Berserker • Samurai) • Machine Gun • Marine • Mechanized Infantry • Modern Armor • Mobile SAM • Musketman (Janissary • Minuteman • Musketeer • Tercio) • Paratrooper • Pikeman (Impi • Landsknecht) • Rifleman (Carolean • Mehal Sefari • Norwegian Ski Infantry) • Rocket Artillery • Scout (Pathfinder ) • Spearman (Battering Ram • Hoplite • Immortal • Pictish Warrior ) • Swordsman (Kris Swordsman • Legion • Mohawk Warrior) • Tank (Panzer) • Trebuchet (Hwach'a) • Warrior (Brute • Jaguar • Maori Warrior) • XCOM Squad
Naval military
Battleship • Caravel (Nau • Turtle Ship) • Carrier • Destroyer • Frigate (Ship of the Line) • Galleass (Great Galleass ) • Galley • Ironclad • Missile Cruiser • Nuclear Submarine • Privateer (Sea Beggar ) • Submarine • Trireme (Quinquereme • Dromon )
Aircraft
Atomic Bomb • Bomber (B17) • Fighter (Zero) • Great War Bomber • Guided Missile • Jet Fighter • Nuclear Missile • Stealth Bomber • Triplane
Religious
Inquisitor • Missionary
See also
Great People • Spaceship Parts

Valid only in the Gods & Kings expansion pack.
Valid only in the Brave New World expansion pack.