Fire Emblem Warriors: Three Hopes - The Loop
Play Sound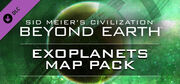 The Sid Meier's Civilization: Beyond Earth Exoplanets Map Pack is a DLC that came as a preorder bonus for Beyond Earth. It is now available to purchase on various digital game distributors including Steam.
Description on Steam
[
]
The Exoplanets map pack includes six custom maps inspired by real-world exoplanets. Specialized scripts produce randomized geographic layouts each time a new game begins, allowing for even more replayability on new alien worlds. Maps include:
| | Planet | Description |
| --- | --- | --- |
| | Kepler 186f | This lush forest planet is one of the oldest known Earth-like planets. |
| | Rigil Khantoris Bb | Orbiting the closest star to the solar system, the historical records of this arid continental planet's settlement are well-preserved. |
| | Tau Ceti d | This planet of seas and archipelagos features a booming biodiversity and a wealth of resources. |
| | Mu Arae f | Tidally locked in orbit around a weak star, the southern hemisphere of this planet is a blistering desert where the sun never sets, while the northern hemisphere is perpetually in frozen darkness. |
| | 82 Eridani e | An alien world of scarce water and wracked by tectonic forces. |
| | Eta Vulpeculae b | A mysterious new discovery with unknown terrain. |
*Original text for the description of the planet has been replaced with a table for ease of reading.
Civilization: Beyond Earth [Edit]
Games: Base Beyond Earth • Rising Tide • Starships†
Lists
Aliens • Artifacts (Alien, Old Earth, Progenitor)

• Biomes • Buildings • Cargo • Colonists • Orbital Units • Personality Traits

• Planets • Quests • Resources • Sponsors • Spacecraft • Technologies • Terrain • Tile Improvements • Trade Agreements

• Units • Virtues • Wonders • Yields
Affinities
Concepts
Alien gameplay • Aquatic gameplay

• Artifacts System

• Buildings • Cities • Covert Operations • Diplomacy • Expeditions • Marvel System

• Miasma • Orbital Layer • Stations • Tech Web • Trade • Units • Victory
Yields


Culture •

Diplomatic Capital

•

Energy •

Food •

Health •

Production •

Science
Misc.
Starting a new game • Starter Guide • Strategy Guides • Steam Achievements • Mods • Updates • Soundtrack • Starships Unlockables • Exoplanets Map Pack
Introduced in the Rising Tide expansion pack. • † Spin off game based in the same fictional universe