Game Info
[
]
Industrial Era ranged unit. Upgrades from the Crossbowman.
Strategy
[
]
The Gatling Gun is an upgrade from the Crossbowman, but its role changes entirely, and together with the Artillery and aircraft, it ushers in a complete change to combat tactics in modern times. The first repeating gun weapon, it is able to spit lead with incredible speed and mow down incoming infantry. Although its bullets can't reach 2 tiles away like the attacks of earlier ranged units (it has only 1 range), it still attacks with impunity. Furthermore, its

Ranged Strength is the same as its

Melee Strength, eliminating the vulnerability to melee attacks that troubled earlier archer units. This makes searching for vantage points less important (although the Gatling Gun can still use a hill's defensive bonus), since the unit will only be able to attack adjacent tiles anyway.
Gatling Guns now become part of your front-line troops, being as useful against melee troops as infantry. Their advantage is the ability to shoot (and avoid counterattacks from the units they attack), and a well-situated Gatling Gun can become very lethal on the field.
A Gatling Gun is fully capable of making use of the Range promotion, allowing it to have a range of 2 hexes. Similarly, Longbowmen and Chu-Ko-Nu will retain their special traits when upgraded to Gatling Guns.
Civilopedia entry
[
]
The Gatling Gun, forerunner to the machine gun, was invented in 1861 AD by the American Dr. Richard Gatling in the hope of reducing the size of armies and displaying how futile war is. Operation of a Gatling Gun involved a revolving multi-barrel design, in which a hand crank turned the mechanism. As each barrel cycled, the spent cartridge was ejected, a new one loaded, and the muzzle barrel cooled. In this manner, a high rate of fire could be maintained without overheating. What the Gatling Gun lacked in accuracy was made up for by its lethality.
Although not officially adopted by the United States Army until 1866, it was used for the first time in combat during the American Civil War by Union forces. It next saw use during the Peru-Chile War of the Pacific (1879-1883), which convinced European armies of its utility against massed enemies. Within a decade, the Gatling Gun was adopted by most of the major powers; it was used most effectively to expand their colonial empires against the likes of the Ndebele, Zulu, Bedouins, Turkmen, Boxers, and other native peoples. In the first decade of the 1900s, designs for gas-operated "machine" guns made the weapon obsolete; the U.S. Army withdrew all models of the Gatling Gun from service in 1911, followed soon after by the European armies.
Unofficial custom card
[
]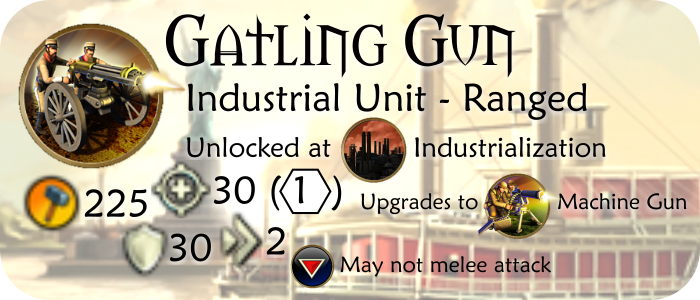 Civilization V Units [edit]
Civilian
Archaeologist • Caravan • Cargo Ship • Settler • Work Boat • Worker
Land military
Anti-Aircraft Gun • Anti-Tank Gun • Archer (Atlatlist • Bowman • Slinger) • Artillery • Bazooka • Cannon • Catapult (Ballista • Siege Tower ) • Cavalry (Berber Cavalry • Comanche Riders • Cossack • Hussar ) • Chariot Archer (Hand-Axe • Horse Archer • War Chariot • War Elephant) • Composite Bowman • Crossbowman (Chu-Ko-Nu • Longbowman) • Gatling Gun • Giant Death Robot • Great War Infantry (Foreign Legion) • Helicopter Gunship • Horseman (African Forest Elephant • Cataphract • Companion Cavalry) • Infantry (Pracinha) • Knight (Camel Archer • Conquistador • Keshik • Mandekalu Cavalry • Naresuan's Elephant) • Lancer (Hakkapeliitta • Sipahi • Winged Hussar ) • Landship • Longswordsman (Berserker • Samurai) • Machine Gun • Marine • Mechanized Infantry • Modern Armor • Mobile SAM • Musketman (Janissary • Minuteman • Musketeer • Tercio) • Paratrooper • Pikeman (Impi • Landsknecht) • Rifleman (Carolean • Mehal Sefari • Norwegian Ski Infantry) • Rocket Artillery • Scout (Pathfinder ) • Spearman (Battering Ram • Hoplite • Immortal • Pictish Warrior ) • Swordsman (Kris Swordsman • Legion • Mohawk Warrior) • Tank (Panzer) • Trebuchet (Hwach'a) • Warrior (Brute • Jaguar • Maori Warrior) • XCOM Squad
Naval military
Battleship • Caravel (Nau • Turtle Ship) • Carrier • Destroyer • Frigate (Ship of the Line) • Galleass (Great Galleass ) • Galley • Ironclad • Missile Cruiser • Nuclear Submarine • Privateer (Sea Beggar ) • Submarine • Trireme (Quinquereme • Dromon )
Aircraft
Atomic Bomb • Bomber (B17) • Fighter (Zero) • Great War Bomber • Guided Missile • Jet Fighter • Nuclear Missile • Stealth Bomber • Triplane
Religious
Inquisitor • Missionary
See also
Great People • Spaceship Parts

Valid only in the Gods & Kings expansion pack.
Valid only in the Brave New World expansion pack.