The Japanese are a playable civilization in Civilization II.
Color
[
]
The Japanese are a green civilization. A game involving the Japanese will not include the Zulus or Babylonians.
Leaders
[
]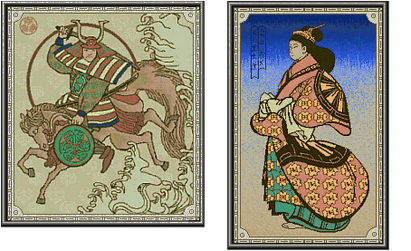 Main article: Leaders (Civ2)
The default male leader of the Japanese is Tokugawa. Tokugawa Ieyasu (1543–1616) established the Tokugawa Shogunate by overthrowing Toyotomi Hideyoshi's infant son. He continued Hideyoshi's antagonistic policies towards foreigners and foreign religions, ultimately banning Japanese Christianity outright and beginning Japan's isolation.
The default female leader is Amaterasu ("Shining in Heaven"), the Japanese solar goddess traditionally credited as the great-great-great-grandmother of the warlord Jimmu, who established himself as a ruler on Honshu c. 660 BC.
Japanese leaders use governments' default titles except under monarchy and democracy. A Japanese king or queen is known as a "shogun". A Japanese president, like English and Greek counterparts, is known as a "prime minister".
Personality
[
]
The Japanese are aggressive, perfectionist, and militaristic.
City List
[
]
The default Japanese city list is:
Kyoto (default capital)
Osaka
Edo
Satsuma
Kagoshima
Nagoya
Izumo
Nagasaki
Yokohama
Shimonoseki
Matsuyama
Sapporo
Hakodate
Ise
Toyama
Fukushima
Suo
Bizen
Echizen
Izumi
Omi
Echigo
Kozuke
Sado
Sendai
Kobe
Hiroshima
Kitakyushu
Fukuoka
Nobeoka
Oita
Sasebo
Kurume
Kochi
Yamaguchi
Matsue
Akashi
Nanao
Okazaki
Tanabe
Tsu
Niigata
Mito
Chiba
Ishinomaki
Hirosaki
Kuji
Muroran
Obihiro
Wakkanai
Kushiro
Hitachi