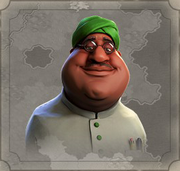 Librarian is the starting title for Pingala, a Governor in Civilization VI: Rise and Fall.
Effects
[
]
15% increase in

Science and

Culture generated by the city.
Civilopedia entry
[
]
A librarian is responsible for maintaining the books of a library, as well as acquiring new ones that meet the library's standards. This is a relatively ancient profession, which required rare expertise in reading and evaluating texts. Librarians also serve as archivists and preservers of valuable knowledge for future generations.