Raise a Floppa - The Loop
Play Sound
Game Info
[
]
First gunpowder infantry unit of the game. Upgrades from the Longswordsman.
Strategy
[
]
The Musketman is the first gunpowder unit in the game, and although it's not much more powerful than its predecessor, it is a necessary step to continue to the other, more powerful units in the late middle game. Also, the Musketman doesn't require Iron like the Longswordsman or Horses like the Knight, allowing them to be built in larger numbers if strategic resources are scarce and making Pikemen and other anti-cavalry units less effective at repelling them.
The Musketman is available soon after the Longswordsman, and the requisite tech is in much the same part of the tech tree. For this reason, many offensive players choose to rush straight to the Musketman (researching Gunpowder immediately after Steel), as it is slightly stronger and provides an even greater advantage in battle.
Civilopedia entry
[
]
The musket is a flintlock, muzzle-loading, long-barreled weapon which is fired from the shoulder. Muskets were lighter and more accurate than the earlier military firearm, the arquebus, and by the 18th century they had supplanted them on most European battlefields. With the addition of a bayonet the musket became a serviceable close-combat weapon as well, rendering the pikeman obsolete. The British army's "Brown Bess" was the archetypical musket, in service from 1722 until 1838; it was used by both sides in the American Revolution.
Trivia
[
]
The proper term for a soldier wielding a musket is a "Musketeer." This unit was likely named "Musketman" to avoid confusion with the French unique unit with the same name.
Unofficial custom card
[
]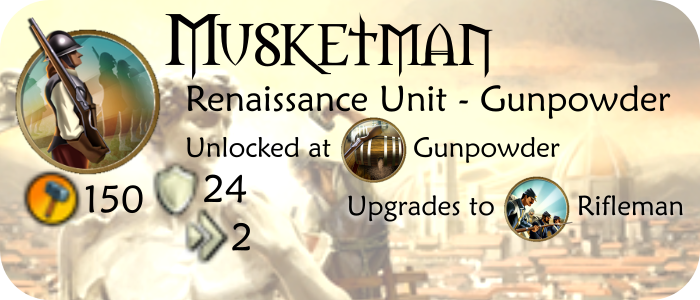 Civilization V Units [edit]
Civilian
Archaeologist • Caravan • Cargo Ship • Settler • Work Boat • Worker
Land military
Anti-Aircraft Gun • Anti-Tank Gun • Archer (Atlatlist • Bowman • Slinger) • Artillery • Bazooka • Cannon • Catapult (Ballista • Siege Tower ) • Cavalry (Berber Cavalry • Comanche Riders • Cossack • Hussar ) • Chariot Archer (Hand-Axe • Horse Archer • War Chariot • War Elephant) • Composite Bowman • Crossbowman (Chu-Ko-Nu • Longbowman) • Gatling Gun • Giant Death Robot • Great War Infantry (Foreign Legion) • Helicopter Gunship • Horseman (African Forest Elephant • Cataphract • Companion Cavalry) • Infantry (Pracinha) • Knight (Camel Archer • Conquistador • Keshik • Mandekalu Cavalry • Naresuan's Elephant) • Lancer (Hakkapeliitta • Sipahi • Winged Hussar ) • Landship • Longswordsman (Berserker • Samurai) • Machine Gun • Marine • Mechanized Infantry • Modern Armor • Mobile SAM • Musketman (Janissary • Minuteman • Musketeer • Tercio) • Paratrooper • Pikeman (Impi • Landsknecht) • Rifleman (Carolean • Mehal Sefari • Norwegian Ski Infantry) • Rocket Artillery • Scout (Pathfinder ) • Spearman (Battering Ram • Hoplite • Immortal • Pictish Warrior ) • Swordsman (Kris Swordsman • Legion • Mohawk Warrior) • Tank (Panzer) • Trebuchet (Hwach'a) • Warrior (Brute • Jaguar • Maori Warrior) • XCOM Squad
Naval military
Battleship • Caravel (Nau • Turtle Ship) • Carrier • Destroyer • Frigate (Ship of the Line) • Galleass (Great Galleass ) • Galley • Ironclad • Missile Cruiser • Nuclear Submarine • Privateer (Sea Beggar ) • Submarine • Trireme (Quinquereme • Dromon )
Aircraft
Atomic Bomb • Bomber (B17) • Fighter (Zero) • Great War Bomber • Guided Missile • Jet Fighter • Nuclear Missile • Stealth Bomber • Triplane
Religious
Inquisitor • Missionary
See also
Great People • Spaceship Parts

Valid only in the Gods & Kings expansion pack.
Valid only in the Brave New World expansion pack.