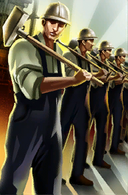 Back to Social policies



Go to the Social Strategy article

Order is a social policy tree in Civilization V. It is available at the start of the Industrial Era and cannot be active at the same time as Autocracy or Freedom in vanilla and Gods & Kings.
In Brave New World it got converted from a social policy tree to an Ideology.
Game Info
[
]
Vanilla and Gods & Kings
[
]
Order is best for large, sprawling empires, increasing the strength of the empire based on the number of Cities it contains.
Adopting Order increases

Happiness by +1 per city.
Adopting all Policies in the Order tree will grant +1 (+2 in

)
Food,

Production,

Science,

Gold and

Culture per city. May purchase Great Engineers with
Faith (

only).
Policy
Effect
Requirement
 United Front
Militaristic city states grant units twice as often when you are at war with a common foe.
Adopting Order
 Planned Economy
Factories increase a city's Science output by 25%.
Build Factories in half the usual time ( only).
Adopting Order
 Nationalism
15% attack bonus when fighting in friendly territory.
Adopting Order
 Socialism
Gold maintenance costs of Buildings reduced by 15%.
Planned Economy
 Communism
+2 Production per City and:
Socialism
Brave New World
[
]
Main article: Ideology_(Civ5)#Order
Strategy
[
]
Civilopedia entry
[
]
The policy of order values stability above all else. Order is what people most crave - that tomorrow will be the same as today - and that society won't come crashing down on their heads, leaving them prey to the barbarians waiting in the wilderness. Chaos is the most terrible affliction that mankind can suffer, and all so-called "freedoms" are subservient to the necessity to protect against it.
Related achievements
With an Iron Fist

Fully Explore the Order Policy Track.