No Man's Sky Update - The Loop
Play Sound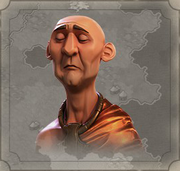 Patron Saint is a Level 3 title for Moksha, a Governor in Civilization VI: Rise and Fall, requiring Laying On Of Hands or Citadel of God. In Civilization VI: Gathering Storm, it requires Citadel of God.
Effects
[
]
Apostles and Warrior Monks trained in the city receive 1 extra

Promotion when receiving their first promotion.
Civilopedia entry
[
]
Many religions praise holy individuals and link their lives with places and practices. The saint then can serve as the intermediary for people of that place or profession. There are a staggering number and breadth of patron saints, such as Guan Yu (who is claimed by both gangsters and police in Hong Kong), Saint Denis, patron saint of Paris (depicted carrying his own severed head), or Saint Gertrude of Nivelles, patron saint of cats.
Civilization VI Governors [edit]
Amani
Affluence • Emissary • Foreign Investor • Local Informants • Messenger • Prestige • Promoter • Puppeteer
Ibrahim
Capou Agha • Grand Vizier • Head Falconer • Khass-Oda-Bashi • Pasha • Serasker
Liang
Amusement • Aquaculture • Guildmaster • Infrastructure • Parks and Recreation • Reinforced Materials • Water Works • Zoning Commissioner
Magnus
Black Marketeer • Groundbreaker • Industrialist • Provision • Surplus Logistics • Vertical Integration
Moksha
Bishop • Citadel of God • Divine Architect • Grand Inquisitor • Laying On Of Hands • Patron Saint
Pingala
Arms Race Proponent • Connoisseur • Curator • Grants • Librarian • Researcher • Space Initiative
Reyna
Contractor • Curator • Foreign Exchange • Forestry Management • Harbormaster • Land Acquisition • Renewable Subsidizer • Tax Collector
Victor
Air Defense Initiative • Arms Race Proponent • Defense Logistics • Embrasure • Garrison Commander • Redoubt • Security Expert

Added in the Gathering Storm expansion pack.