Back to the list of improvements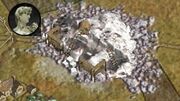 Game Info
Edit
Advanced production improvement. Requires Masonry.
Constructed on:
Access:
Effect:
The Quarry improves sources of Stone and Marble and gives

Production bonuses to nearby cities.
Civilopedia entry
Edit
In common usage a quarry is a place that produces any stone or gravel. In Civilization V quarries boost production from the stone resource and provide access to the marble luxury resource, a highly-valued stone used for construction and artwork.
Community content is available under
CC-BY-SA
unless otherwise noted.