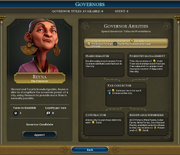 Reyna, otherwise known as The Financier, is one of the Governors introduced in Civilization VI: Rise and Fall. Her main expertise is increasing

Gold income for the city, as well as promoting

Tourism in Rise and Fall and generating clean

Power in Gathering Storm.
Rise and Fall
Edit
Gathering Storm
Edit
Shrewd and fiscally knowledgeable, Reyna is able to strengthen the economic power of a city, using finances to provide more than is normally possible.
Reyna is a flexible Governor with a starting title that is useful for any new city for any civilization (and later on, the Contractor promotion allows new cities to quickly buy districts). However, her promotions are geared towards trade (particularly maritime) and

Culture-oriented civilizations, such as the Netherlands and England. Reyna's Tax Collector promotion, however, suggests that the city she establishes herself in should have a high population, pushing the player to have only Commercial Hubs and Harbors for districts, if any at all, the remainder of that city's tiles being filled with Farms. Finally, it is important to note that her Curator promotion does not include

Tourism from

Relics, especially if you are playing as Poland.
Civilopedia entry
Edit
A financier is an official tasked with resolving budgetary and financial matters, requiring an astute understanding of economics and the psychology of markets. Playing with the money of the state is not a matter for the faint-hearted.
Related achievements
Edit
Taxation Without Representation

As

England

, lose a city to disloyalty which has an established

Financier Governor

A reference to the famous anti-British slogan used by the colonists prior to the events of the American Revolution.
Community content is available under
CC-BY-SA
unless otherwise noted.