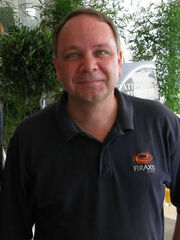 Sidney K. "Sid" Meier (born February 24, 1954) is a Canadian programmer and designer of several popular computer strategy games, most notably Civilization. He has won accolades for his contributions to the computer games industry. Meier is a Director of Creative Development for computer game developer Firaxis Games, which he co-founded with Jeff Briggs and Brian Reynolds in 1996.
Career
[
]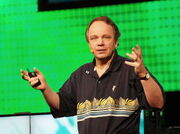 Sid Meier founded MicroProse together with Bill Stealey in 1982. At MicroProse, Meier developed the game series for which he is most widely recognized, Civilization. Meier eventually left MicroProse and in 1996 founded Firaxis Games along with veteran gaming executive Jeff Briggs. Today Firaxis makes strategy games, many of which are follow-ups to classic Meier titles, such as Civilization IV and Pirates!.
In 1999, Meier became the second person to be inducted into the Academy of Interactive Arts and Sciences' Hall of Fame. The first to receive that honor was Shigeru Miyamoto from Nintendo.
Sid Meier is not always the main designer on titles that carry his name. For instance, Brian Reynolds has been credited as the primary designer behind Sid Meier's Alpha Centauri and Sid Meier's Colonization,[1][2] while Soren Johnson held that role in Sid Meier's Civilization IV. Currently Meier's role appears to be that of a creative director, simultaneously contributing to multiple projects.
Meier worked with a team on a dinosaur themed game starting early 2000, but announced in an online development diary on 24 January 2001 that the game had been shelved. Despite trying various approaches, including turn-based and real-time gameplay, he said he found no way to make the concept fun enough. In August 2005, Meier said "We've been nonstop busy making other games over the past several years, so the dinosaur game remains on the shelf. However, I do love the idea of a dinosaur game and would like to revisit it when I have some time."[3]
Meier currently lives in Hunt Valley, Maryland with his wife, Susan, and son, Ryan. 
Trivia
[
]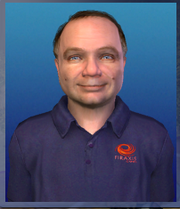 Games
[
]
Games that have been developed by Meier span three decades. Some of the more notable titles are listed below in chronological order.
Spitfire Ace (1982) - Sid's first game, which he made while playing a major role in the game creation stage.
HellCat Ace (1982)
Floyd of the Jungle (1982)
NATO Commander (1984)
Solo Flight (1984)
Kennedy Approach (1985)
F-15 Strike Eagle (1985) - One of the first combat flight simulators.
Silent Service (1985) - A World War II submarine simulation game, and Meier's first foray out of flight sims.
Sid Meier's Pirates! (1987)
F-19 Stealth Fighter (1988)
F-15 Strike Eagle II (1989)
Covert Action (1990)
Railroad Tycoon (1990) - An economic simulation game that paints the early development of railroads in the United States and Europe, a time when competition between railroad companies was very fierce. With the release of Sid Meier's Railroads!, this series now has four installments.
Civilization (1991) - Meier's most successful game to date. It has lived through several versions (see below) and sold over 6 million copies. This game is a turn-based strategy game.
Pirates! Gold (1993) - A game where the player takes the role of a pirate in the Caribbean. The player can choose a famous expedition to play, and enter cities, search for treasures, duel with other pirates and navigate the high seas.
Colonization (1994) - A turn-based strategy game themed on the early European colonization of the New World, starting in 1492 and lasting until the age of independence in 1850. To achieve victory in this game, the player must declare independence, and win in a revolutionary war against their mother country in Europe (France, England, The Netherlands, or Spain).
Civilization II (1996) - Follow-up to Sid Meier's successful Civilization; Brian Reynolds was lead designer on the game.
Gettysburg! (1997)
Antietam! (1998) - Gettysburg! and Antietam! are part of his Civil War set.
Alpha Centauri (1999) - Brian Reynolds was lead designer on this adaptation of Civilization to an outer space theme. Alpha Centauri is set in a futuristic setting on an alien world, with ideological factions substituting for civilizations. This is a much more versatile version of Civilization, featuring economics and unique military customization, as well as diplomacy.

Civilization III (2001) - The third installment of the series, with improved rules, graphics and gameplay. This is a turn-based strategy game allowing you to go from the Ancient Times to Modern Times. It features diplomacy much like that of Meier's other game, Alpha Centauri, and also introduces Culture. This installment makes the Civilization series the best selling PC series to date.
SimGolf (2002) - A joint project with the Sim-masters at Maxis.
Pirates! (2004) - Follow-up to the acclaimed Pirates! game from 1987, updating the graphics and featuring some entirely new gameplay elements and an all new ballroom dancing segment.
Civilization IV (2005) - The fourth installment in the Civilization franchise. A full 3D engine replaces the isometric maps of Civilization II and III. This installment adds the concept of Religion to the game, building upon both the Culture and Diplomacy elements from previous incarnations.
Railroads! (2006) - When Take-Two shut down PopTop Software and folded it into Firaxis, Meier once again became responsible for the Railroad Tycoon series, and this is billed as the sequel to Railroad Tycoon 3.
Civilization V (2010) - The fifth installment in the Civilization series. It received good reception. However, the main complaints against the game were the removal of the Religion (which was reintroduced in an expansion pack) and Civics systems incorporated into the previous installment, and a less than satisfactory AI.
CivWorld (2011) - A massively multiplayer version of Civilization, exclusive to Facebook. Servers were shut down in 2013.
Ace Patrol (2013) - A turn-based flight combat game, set during World War I.
Ace Patrol: Pacific Skies (2013) - A turn-based flight combat game, set during World War II.
Civilization Revolution 2 (2014) - A sequel to the simplified mobile spin-off of the Civilization series.
Civilization: Beyond Earth (2014) - A spin-off of the Civilization series, set in a science fiction setting. It is considered the spiritual successor to Alpha Centauri.
Starships (2015) - A turn-based strategy game based in the Beyond Earth setting that focuses on spacecraft.
Civilization VI (2016) - The sixth installment in the Civilization series.
Videos
[
]
References
[
]
External links
[
]