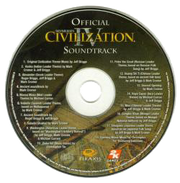 The soundtrack of the computer game Civilization IV features a large variety of tracks both original and historical, from Gregorian chants to modern minimalism, and makes extensive use of classical music as well as both world music and folk music. Such a focus on the soundtrack and the inclusion of classical, world and folk music are rare among games, though relatively common for strategy games. Original music was created for the expansion Civilization IV: Warlords and includes specifically themed music for each of the several scenarios, and several new Leader pieces. Civilization IV: Warlords also uses music from Civilization III to fill out some of the areas overlooked in the original Civilization IV, such as music for the "classical" period, and adds eastern music for the Asian scenarios. All tracks are stored on the hard drive in mp3 format, making them perfectly usable outside the game.
Original music was composed by Jeff Briggs, Mark Cromer, Michael Curran and Christopher Tin. Featured composers include John Adams, Gregorio Allegri, Johann Sebastian Bach, Ludwig van Beethoven, Johannes Brahms, Antoine Brumel, Giovanni Pierluigi da Palestrina, Francisco de la Torre, Josquin des Prez, Antonín Dvořák, Orlande de Lassus, Wolfgang Amadeus Mozart, Johannes Ockeghem, Michael Praetorius, Nikolai Rimsky-Korsakov, Camille Saint-Saëns and John Sheppard.
Each of the game's time periods has its own set of background music appropriate for the period. The Ancient and Classical ages are limited to four original tracks that mostly focus on ambience and primitive instruments such as drums and the flute. The Middle Ages feature medieval and renaissance music, both instrumental and chants, such as Kyrie by Ockeghem. The renaissance era uses baroque and classical music music by Mozart, Beethoven and Bach. The soundtrack to the industrial period focuses on romantic music by Brahms, Dvořák and Beethoven, with one track each from Saint-Saëns and Rimsky-Korsakov. The modern age's music is composed exclusively of music by American minimalist composer John Adams. Orchestral samples in the game are from the Vienna Symphonic Library, which features recordings of classical music by members of the Vienna Philharmonic.[1]
Each leader has his or her own theme music as well, and each leitmotif has three variants, corresponding to different periods in the game. These are shorter and simpler pieces, from just under 40 seconds to three minutes. Each reflects the leader or country in question: Roosevelt's music is the Marines' Hymn, and Napoleon's is based on La Marseillaise. Some are renditions of famous pieces of classical music, such as Frederick's piece, which is a paraphrase of the fourth of the Goldberg Variations, or Bismarck's, which is the opening theme of the second movement of Beethoven's Symphony No. 3. Others, such as Mao Zedong and Alexander the Great have music that has been modified from earlier games, such as Civilization III.
The theme song is "Coronation" by Christopher Tin, and the menu music is "Baba Yetu", also by him. The latter features lyrics based on a Swahili adaptation of the Lord's Prayer by Chris Kiagiri. Vocals were performed by Stanford Talisman.[2]
Stanford Talisman performs all the pieces written by Christopher Tin. The other tracks (especially the polyphony from the Medieval section) are performed by a variety of groups, who are not credited on the original soundtrack.[3]
Music in Civilization IV
Title
Artist/Composer
Other Information
Coronation
Christopher Tin
Intro video theme song
Baba Yetu
Menu theme (sung in Swahili). Won the 2011 Grammy Award for Best Instrumental Arrangement Accompanying Vocalist(s)
Al Nadda
Rahbani brothers
Warlords menu theme (Lebanese, sung in Arabic)
Asoka
Jeff Briggs, Mark Cromer
Indian leader theme
?
Jeff Briggs, Roger Briggs, Mark Cromer
Alexander the Great's theme
?
Michael Curran
Mansa Musa's theme
?
Mark Cromer
Saladin's theme
?
Ancient folk tune, Jeff Briggs, Mark Cromer
Huang Shi Ti's theme
?
Jeff Briggs, Michael Curran
Huayna Capac's theme
Washington's Artillery Retreat
Michael Curran, Mark Cromer, Jeff Briggs
Washington's theme
Harvest of the Nile
Hatshepsut's and Ramesses's theme
?
Joao II's theme
Domine, Ad Adjuvandum
Charlemagne's theme
Kent Gij Het Land
Willem van Oranje's theme
En Lordani
Justinian I's theme
Tenochtitlan Revealed
Montezuma's theme
Hammurabi's Code
Cyrus's and Darius's theme
The Shining Path
Jeff Briggs, Mark Cromer
Mao Zedong's theme
Augustus Rises
Julius Caesar's theme
Marines' Hymn
Roosevelt's theme
Malagueña
Ernesto Lecuona, Mark Cromer
Isabella's theme
La Marseillaise
Claude Joseph de Lisle
Napoleon's and De Gaulle's theme
Harpsichord Sonata K.380 "The Hunt"
Domenico Scarlatti
Louis XIV's theme
Sakura Sakura
Traditional Japanese (Edo period), Jeff Briggs, Mark Cromer
Tokugawa's theme
The fourth of the Goldberg Variations
Johann Sebastian Bach
Frederick's theme
The second movement of Beethoven's Symphony No. 3
Ludwig van Beethoven
Bismarck's theme
The Song of the Volga Boatmen
Mily Balakirev, Jeff Briggs
Peter the Great's and Stalin's theme
Fanfare-Rondeau
Jean-Joseph Mouret
Elizabeth's theme
Rule Britannia
Thomas Arne
Victoria's and Churchill's theme
Mongol Internationale
Magsarshawyn Durgarshaw (Mongol National Anthem), Jeff Briggs
Kublai Khan's and Genghis Khan's theme
Fear an Dùin Mhòir
? [4]
Brennus and Boudica's theme
Polonaise
Johann Sebastian Bach
Barbarian theme
"Rock & Roll"
Lou Reed/The Velvet Underground
'Rock 'n' Roll' wonder construction theme
The Minuet from the Water Music Suite in D Major
George Frideric Handel
"Default Peace Music"
The White-Haired Woman
Yan Jinxuan
"Chinese Unification" theme musi
Promenade from Pictures at an Exhibition
Modest Mussorgsky
Hall of Glory theme music
Conquests Fantasy 1 & 2
unknown
Warlords soundtrack music
Miserere
Gregorio Allegri
"Medieval Age" background music
Ay Santa Maria
Anonymous
La Gamba
Missa Et ecce terrae motus. Gloria
Antoine Brumel
Deus Judex Justus
Chant
Laudate
Regem cui omnia vivunt
La Spagna: Danza alta
Francisco de la Torre
El grillo
Josquin des Prez
Lamentatio super morte Josquin des Pres (O mors inevitabilis)
Jheronimus Vinders
Alma Redemptoris Mater
Orlande de Lassus
Intemerata
Johannes Ockeghem
Kyrie
Johannes Ockeghem
Recercada Tercera
Diego Ortiz
Missa Papae Marcelli: II. Gloria
Giovanni Pierluigi da Palestrina
Missa Papae Marcelli: III. Credo
Ballet du Roy from Terpsichore
Michael Praetorius
Bransle Gay / Bransle de Montirade from Terpsichore
Volte from Terpsichore
Media Vita
John Sheppard
"Medieval Age" background music. Performed by the Tallis Scholars.
Brandenburg Concerto No. 2 in F Major, BWV 1047: III. Allegro assai
Johann Sebastian Bach
"Renaissance Age" background music
Brandenburg Concerto No. 3 in G Major, BWV 1048: I. Allegro
Brandenburg Concerto No. 4 in G Major, BWV 1049: I. Allegro
Brandenburg Concerto No. 6 in B-Flat Major, BWV 1051: I. Allegro
Brandenburg Concerto No. 6 in B-Flat Major, BWV 1051: III. Allegro
Cello Suite No. 1 in G Major, BWV 1007: II. Allemande
Cello Suite No. 1 in G Major, BWV 1007: IV. Sarabande
Cello Suite No. 1 in G Major, BWV 1007: V. Menuet I and II
Cello Suite No. 4 in E-Flat Major, BWV 1010: V. Bouree I and II
Cello Suite No. 5 in C minor, BWV 1011: VI. Gigue
Concerto for Two Violins in D Minor, BWV 1043: II. Largo ma non tanto
Concerto for Two Violins in D Minor, BWV 1043: III. Allegro
Violin Concerto in A Minor, BWV 1041: III. Allegro assai
Romance No. 1 for Violin and Orchestra in G Major, Op. 40
Ludwig van Beethoven
Symphony No. 1 in C Major, Op. 21: II. Andante Cantabile Con Moto
Symphony No. 8 in F Major, Op. 93: II. Allegretto scherzando
Piano Concerto No. 20 in D Minor, K. 466: II. Romance
Wolfgang Amadeus Mozart
Serenade No. 10 in B-flat Major, K. 361 - "Gran Partita": III. Adagio
Symphony No. 41 in C Major, K. 551 - "Jupiter": II. Andante Cantabile
Symphony No. 5 in C Minor, Op. 67: II. Andante con moto
Ludwig van Beethoven
"Industrial Age" background music
Symphony No. 6 in F Major "Pastoral", Op. 68: I. Awakening of Cheerful Feelings Upon Arrival in the Country, Allegro Ma Non Troppo
Symphony No. 6 in F Major "Pastoral", Op. 68: II. Scene by the Brook, Andante Molto Mosso
Hungarian Dance No. 1 in G Minor
Johannes Brahms
Hungarian Dance No. 16 in F Minor
Hungarian Dance No. 3 in F Major
Symphony No. 3 in F Major, Op. 90: II. Andante
Symphony No. 3 in F Major, Op. 90: III. Poco Allegretto
Slavonic Dances, Op. 46, B 83 (after piano 4-hands version): No. 3 in A Flat Major
Antonín Dvořák
Slavonic Dances, Op. 46, B 83 (after piano 4-hands version): No. 7 in C Minor
Slavonic Dances, Op. 72, B 147: No. 2 (10) in E Minor
Slavonic Dances, Op. 72, B 147: No. 4 (12) in D Flat Major
Suite in A Major "American", Op. 98b, B 190: I. Andante con moto
Symphony No. 9 in E Minor, Op. 95, B 178, "From the New World": II. Largo
Scheherazade, Op. 35: III. The Young Prince and the Young Princess
Nikolai Rimsky-Korsakov
Cello Concerto No. 1 in A Minor, Op. 33: II: Allegretto con moto
Camille Saint-Saëns
Christian Zeal and Activity
John Adams
"Modern Age" background music
Common Tones in Simple Time
Grand Pianola Music: Part IA
Grand Pianola Music: Part IB
Harmonielehre: Part I
Harmonielehre: Part II. The Anfortas Wound
Harmonielehre: Part III. Meister Eckhardt and Quackie
Shaker Loops: I. Shaking And Trembling
Shaker Loops: II. Hymning Slews
Shaker Loops: III. Loops And Verses
The Chairman Dances: Foxtrot for Orchestra
"Modern Age" background music, also heard during credits
The People Are The Heroes Now (from Nixon in China)
Two Fanfares: Tromba Lontana
"Modern Age" background music
Violin Concerto: II. Chaconne: Body Through Which The Dream Flows
Civilization IV [edit]
Warlords • Beyond the Sword • Colonization†
Buildings (Unique) • Civics • Civilizations • Eras • Leaders (Traits) • Religions • Resources • Soundtrack • Technologies • Terrains (Tile Improvement) • Units (Unique • Class • Promotions) • Wonders

Commerce •

Culture •

Food •

Espionage •

Happiness •

Health •

Power •

Production •

Science
† Total conversion remake of the game Sid Meier's Colonization using Civilization IV engine
Community content is available under
CC-BY-SA
unless otherwise noted.