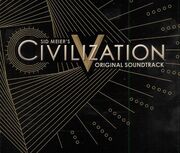 The soundtrack of Civilization V was written by Geoff Knorr and Michael Curran, and features new compositions as well as folk songs and famous compositions. All tracks were performed by the Prague Filmharmonic Orchestra, conducted by Andy Brick, and orchestrated by Geoff Knorr.
Original game
[
]
Some of the songs in the game were released as a 2-disc soundtrack as part of the Deluxe Edition.[1] The tracklisting of the soundtrack is:[2]
Additional locations can be found here:[2] and [3] Original titles used,
DLC Soundtracks
[
]
Several Civilization Songs are found in Downloadable Content only Civilizations.
Gods & Kings
[
]
The Civilization V expansion, Gods & Kings, includes the soundtrack within the game files. Civliizations and Leaders match those of soundtrack which aren't necessarly the same as the game.
Brave New World
[
]
The second Civilization V expansion, Brave New World, contains the following original music:[6][7] [8]
References
[
]
External links
[
]
Civilization V [edit]
Gods & Kings • Brave New World
Lists
Buildings • Civs • DLC • Improvements • Promotions • Resources • Scenarios • Social Policies • Technologies • Terrain • Unique Abilities • Units • Wonders (Natural)
Eras
Ancient • Classical • Medieval • Renaissance • Industrial • Modern • Future† • Atomic‡ • Information‡
Concepts

City-State •

Culture •

Espionage‡ •
Food •

Gold •

Great People •

Happiness •

Production •

Religion‡ •

Science •
Tourism‡ • Victory
Guides etc.
Achievements • Mathematics • Modding • Major Patches • Soundtrack
† Only in vanilla Civ5
‡ Only in Gods & Kings and Brave New World