Fire Emblem Warriors: Three Hopes - The Loop
Play Sound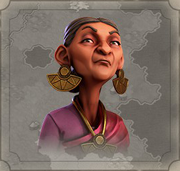 Tax Collector is a Level 2 title for Reyna, a Governor in Civilization VI: Rise and Fall, requiring Harbormaster or Foreign Exchange. In Civilization VI: Gathering Storm, it requires Harbormaster or Forestry Management.
Effects
[
]
+2

Gold per turn for each

Citizen in the city.
Civilopedia entry
[
]
One of only two inevitabilities in the human condition, tax collectors are some of the state's most important and least popular employees. Without the revenue to fund state operations, many public goods would not be possible. Methods for collecting taxes throughout history have ranged from the relatively benign to the outrageous. Assume that your Governor with this skill manages to do so without raising the popular ire.
Civilization VI Governors [edit]
Amani
Affluence • Emissary • Foreign Investor • Local Informants • Messenger • Prestige • Promoter • Puppeteer
Ibrahim
Capou Agha • Grand Vizier • Head Falconer • Khass-Oda-Bashi • Pasha • Serasker
Liang
Amusement • Aquaculture • Guildmaster • Infrastructure • Parks and Recreation • Reinforced Materials • Water Works • Zoning Commissioner
Magnus
Black Marketeer • Groundbreaker • Industrialist • Provision • Surplus Logistics • Vertical Integration
Moksha
Bishop • Citadel of God • Divine Architect • Grand Inquisitor • Laying On Of Hands • Patron Saint
Pingala
Arms Race Proponent • Connoisseur • Curator • Grants • Librarian • Researcher • Space Initiative
Reyna
Contractor • Curator • Foreign Exchange • Forestry Management • Harbormaster • Land Acquisition • Renewable Subsidizer • Tax Collector
Victor
Air Defense Initiative • Arms Race Proponent • Defense Logistics • Embrasure • Garrison Commander • Redoubt • Security Expert

Added in the Gathering Storm expansion pack.