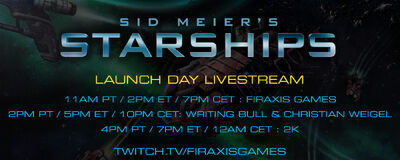 On Thursday, March 12, Sid Meier's Starships will launch on PC, Mac and iPad. To celebrate the launch, we're going to conduct a bold global livestream initiative, which will see a single save game being shared across 3 separate streams. Exciting stuff!
The festivities will kick off with Firaxis Games at 11am PT/2pm ET. Firaxis will start off the shared game and lay the foundation for the remainder of the day's streams.
Next, fans Writing Bull and Christian Weigel will continue our shared save game of Starships at 2pm PT/5pm ET. As some of the biggest fans and most skilled players in the Firaxis Games community, we fully expect them to further strengthen our foothold on the galaxy.
Finally, at 4pm PT/7pm ET, 2K - along with special guests from Wikia - will conclude the shared save game of Starships. Together, we will be united in our pursuit of galactic dominance!
For more details on the day's events, check out this blog post on Civilzation.com . We hope you'll join us on Thursday!
Community content is available under
CC-BY-SA
unless otherwise noted.