I figure we compile this now, when our memories of the old site are fresh. I want to make sure we get everything down, no matter now minor. Please add to this list in the comments
The both source and visual editors have changed
The article table class now has borders
The search on the top bar is all wikis by default, and gives you the option of choosing between the two.
The recent activity box on the front page doesn't work.
The community posts box to on the front page isn't correctly formatted.
When the front page is loaded, the Civ VI, tab is selected, but I also see the Civ V, CivBE, and Other game tabs. When I click a tab, that is fixed.
Additional findings.
Special:MultipleUpload

No longer exists
There seems to be a bottom navbar (at least for admins)
The user screen looks a little different. I guess I am still classified as an admin, But I guess that ranking has been changed to "Sysop"
New admin dashboard options
Critical!! - Templates like SurePageIcon5 do not show text link on mobile sites

The problem seems to only be with SurePageicon5. Everything else shows up in mobile. See: [1]

Community posts aren't updating with blog posts from admins
Not all images are showing up in infoboxes. See Fish (Civ5) -
Replacing the pageimage template with PortableInfoboxPageImage seems to fix the problem, but not all infoboxes with the pageimage template are broken.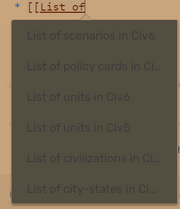 Suggested link formatting needs modification. (See image to the right)
Thumbnails need to have correct color within preview (see image to the right again).